Digitopia Hits Diamond Tier in HubSpot's Solution Partner Program
by DJ Shirley | Updated Nov 6, 2021
We are humbled to announce Digitopia has achieved Diamond tier in HubSpot's Solution Partner Program.
What does Diamond tier mean?
We are now in the top 2% of all HubSpot Certified Solutions Partners. For context, there are more than 5,000 companies in HubSpot's partner directory. We are honored to be in the top tier of partners.
As found on HubSpot's website, "HubSpot solutions partners earn tiers based on the level of success they've achieved for their clients using the HubSpot platform."
Overall, it's a global community that believes putting customers first is the key to growth, and enables its members to offer a wide breadth of more sophisticated solutions across the entire customer experience.
This is one of the reasons why we chose to be a HubSpot focused firm. Our methodology, values, and approach align perfectly to complement one another and we can provide our clients with a flexible yet adoptable solution on the HubSpot platform.
Digitopia's Approach to Growth
We find most B2Bs struggle to activate an effective growth plan amidst the never-ending tactical chaos, so we created a client acquisition and delight program that helps you simplify your strategy, focus your efforts, and create a scalable system so you can confidently drive predictable growth.
As such, we identify as a leading B2B RevOps firm that is renowned for its process, called The Digital Utopia Methodology™, and its application on the HubSpot platform.
Our formula for success has evolved to comprise 3 core components:
HubSpot
Through the combination, we are able to help organizations who are working to break through long-standing plateaus or struggling to maintain their infrastructure as they scale by providing the framework to help them stay aligned, focused, and aware.
Our commitment and dedication to this process has helped 100's of organizations grow over the years.
It's validating to receive recognition like this from an organization like HubSpot and individuals like Dan Tyre.
What Dan Tyre, Director at HubSpot, has to say:

I have worked with Frank and the Digitopia team for many years and have seen firsthand the great work they do for their clients. Digitopia has embraced the inbound revolution, and is an excellent example of a growth firm that can help companies grow and scale better with HubSpot.
We owe so much to our team, partners, and clients for helping us achieve this milestone.
Again, a serious thank you to our clients and all the support you have shown on our HubSpot directory profile (see the love we have received). Every time we obtain a new review on our HubSpot profile, it's an event celebrated across the team.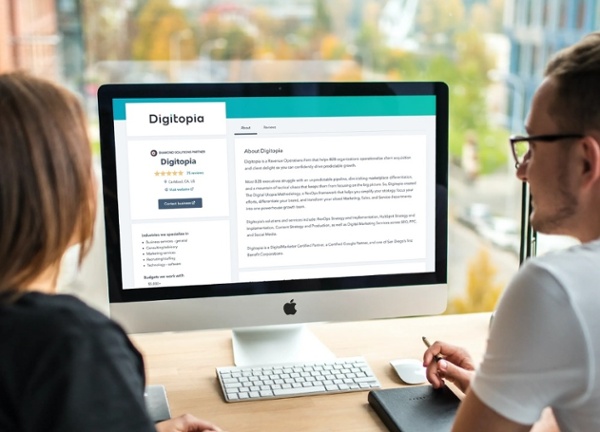 We are excited to continue growing with HubSpot and helping our partners break through new barriers.