How to Make YouTube Analytics Work for You
by DJ Shirley | Updated Nov 9, 2021
To build and sustain an audience on YouTube for your business, you have to take the time to promote your individual marketing videos or your YouTube channel. Once you have developed a loyal audience for your first few marketing videos, the viewers will become subscribers to your YouTube channel. Getting them to watch your future marketing videos will become much easier. Retaining your existing subscribers, while simultaneously seeking out new subscribers, is the next goal.
Tracking the results of these subscribers and your potential audience is imperative. The best way to do this is with YouTube Analytics. This free online toolset is available when you set up your YouTube channel. Using these tools allows you to track, in real time, important information as to who's watching your YouTube marketing videos. YouTube Analytics lets you determine what marketing videos are drawing an audience and what efforts need to be fine-tuned to achieve better results. You can also pay for advertising to promote your marketing videos on YouTube.
YouTube Analytics data can help you create and execute video marketing strategies that will be successful. New functionality and more free tools for YouTube Analytics are constantly being added by Google and Yahoo. Here are some examples of what you can do with YouTube Analytics:
1) Determine quickly who is watching your marketing videos and where they are from.
2) You can see how the people watching your marketing videos are engaging with them.
3) You are able to track their quality of engagement and how long people are watching your marketing videos. YouTube Analytics allows you to see when exactly the viewer clicks out of your marketing video. Using this information from YouTube Analytics, you can adjust your marketing videos so that people are not exiting out early.
Accessing YouTube Analytics
To gain access to YouTube Analytics, you must create a YouTube channel first. The next step is to publish at least one video. After logging into your YouTube account, you can click on the "Video Manager" button or select the "Video Manager" menu option. Next click on the "Analytics" tab near the top of the screen. The Analytics Overview Report gives you information about your YouTube channel and the traffic it has been getting over the last 30 days. You will also see, in this section, the 10 most viewed videos and basic demographic information about where your audience accessed YouTube from. The "Overview Report" in YouTube Analytics displays how people found your video or videos.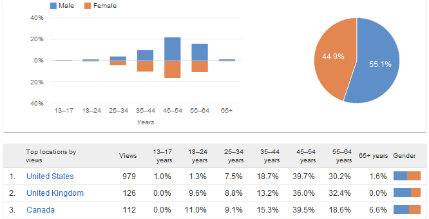 Using this information from YouTube Analytics, you can track the effectiveness of ads, search engine listings and any publicity generated about your marketing videos or activities. YouTube Analytics data is also available for download in a spreadsheet format. To generate a spreadsheet, click on the button located near the top-right corner of any "Analytics" screen.
If you want to see data on a specific video on your YouTube channel page, you can click on the "Content" field near the "Overview" page. The "Geography" field gives you more detailed info about where your viewers are coming from. The "Date" field in YouTube Analytics gives you data based on a specified date range that you can select.
To learn more about YouTube Analytics and how to use these free tools to analyze the audience for your videos, click here.
If you don't want to invest in the time to track your data with YouTube Analytics, you can also hire a company such as Organik SEO to assist you with this. Organik SEO can help you measure important data such as brand awareness, message recall, favorability, and purchase intent. At Organik SEO, we give your business a voice on the world's largest social media platforms: Facebook, Twitter, Pinterest, and YouTube. Making your voice powerful isn't a matter of how much content you post or which hash-tags you add on to your tweets. It's about listening to the needs of your audience, sharing inspiring solutions, and engaging with your followers to build lasting and profitable relationships.
The Digitopia team is passionate about helping businesses grow by tapping into the power of social media and SEO. To discuss how we can help you grow your business, contact us today!