INBOUND 2022: A Detailed Summary of Day 1 Sessions
by Digitopia | Updated Oct 3, 2022
INBOUND 2022 is here!
Hosted in Boston, Massachusets, this three-day event connects thought leaders from all over the world every year.
The Digitopia team compiled a detailed summary of all the sessions that team members attended so you can benefit from all the incredible insights shared at the event, even if you couldn't attend.
Here is a breakdown of the sessions, click on the links to skip down to the sessions that are most relevant for you:
Looking for different days? Check out the summary for INBOUND 2022 Day 2 here and INBOUND 2022 Day 3 here.
---
HubSpot Spotlight
Speakers: Yamini Rangan, HubSpot CEO. Darmesh Shah, co-founder and CTO. Steph Cuthbertson, HubSpot CPO.
HubSpot identified there are 3 different areas of disconnect in our current landscape that businesses across the board are struggling with.
3 Key Areas of Disconnect
1. Companies are Disconnected
The number one pain point for businesses today is disconnected systems and data.
Since the pandemic caused a quick transition to remote work, there has been a frenzy of problem-solving and patching issues with a bunch of different apps.
In fact, the average company has 242 SaaS tools!
Having too many tools and being too spread out is both inefficient and ineffective.
It causes data quality issues and many workers are spending too much time focusing on cleaning & connecting data rather than their core responsibilities, like helping customers.
Disconnected point solutions are not the solution, it causes issues with connecting all the dots and consistency.
2. People Feel Disconnected From Each Other
Having a community builds joy. Peloton experienced a huge boom during the pandemic due to the community it provides during an isolating time.
People crave community in good times and in not-so-good times.
But there's a huge chasm that's happening.
3. Companies are Disconnected From Their Customers.
It's really hard to connect and build meaningful relationships with customers today. We're all sending out emails and blogs in a frenzy at breakneck speed. But digital fatigue and mistrust are now at an all-time high. We are all in a digital overload mode.
People are more wary of giving away their information like an email for a white paper. Apple is campaigning with privacy, which says something about where the market is.
More than ever, old go-to-market strategies will not work.
65% of Google searches ended without a click
40% fewer responses to sales emails
-1.6% average blog growth rate
Updating the Flywheel
The Flywheel was invented at Inbound 2018 and was revolutionary, but now it's time to evolve it.
1. Attract
Looking at Paid Ads specifically, be first to the party with first-party data. Companies that sync their first-party data have 20% more conversions.
Diversify your distribution and use more networks to reach more people. Are you on Tik Tok? Are you podcasting? The more diversity you have in your channels, the more you can attract the right customers.
2. Engage
Earn that open rate. Stop sending uninspired emails that offer nothing. Send sales emails that provide something of value - consultation with an expert, an audit, a video.
Bring context to the conversation. Base copy around actual conversations you've had with the prospect or customers.
3. Delight
Delight your customers by making buying a breeze. Amazon has made buying incredibly easy and has seen amazing success.
Don't bog down growth by making more steps for purchase or not offering a variety of payment options. Give customers channel choice. Email is not dead, but there are other channels like SMS that are more alive. A great example of this is Door Dash.
They provide in-app notifications, but they also provide personalized text updates and send a photo that your food has been delivered. It makes the customer feel taken care of and valued.
Optimize Your Strategy for Customer Connection
What you need is a connected customer growth strategy.
You need more than data - you need context.
You need more than content - you need connection
You need more than contacts - you need community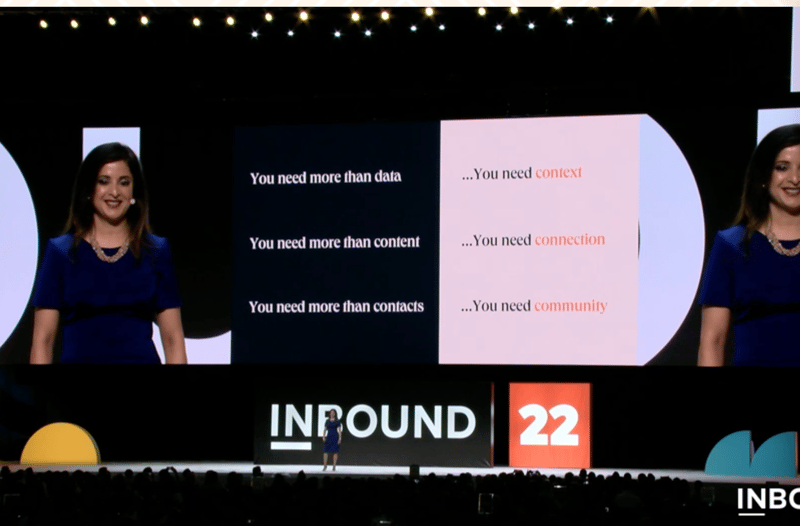 But the truth of the matter is that many companies do not have the support and systems in place to carry out this strategy.
60% of CRM data goes unused
40% of all ops time is spent cleaning and preparing data
Only 3% of companies have data that meets basic quality standards
HubSpot provides the solutions you need to make a connected customer growth strategy a reality.
All HubSpot anchor hubs are interconnected and so they are not in silos. With over 100 connected apps, you can bring data from finance and other systems into one place. HubSpot provides a community through a network, marketplace, and an academy to educate. HubSpot brings best-in-class connection so you can be empowered to connect.
New HubSpot Features Announcements
HubSpot is releasing a myriad of new features that will be available in Beta soon. All the new features are centered around solving the three key areas of disconnection businesses are struggling with and solving for a more connected customer growth strategy.
Customer Journey Analytics

Available in beta next month
Maps out all the points that customers stopped at along their entire journey
Customizable - see specific filters
Provides the ability to use specific lists of contacts
Data Journey Mapping

In HubSpot, create complex maps of how data enters your systems to identify any areas of issue
Custom Object Builder

Build custom objects easily with a front-end builder where you can set up custom objects with less need for backend coding
Data Quality Center

Get an overview of your data health in one dashboard so you can monitor and track data issues and get ahead of potential problems
Data Quality Automation

Set rules for each property to stop data quality issues before they happen
For example, you can set Zip Code to only accept 5 digits and have a max and min value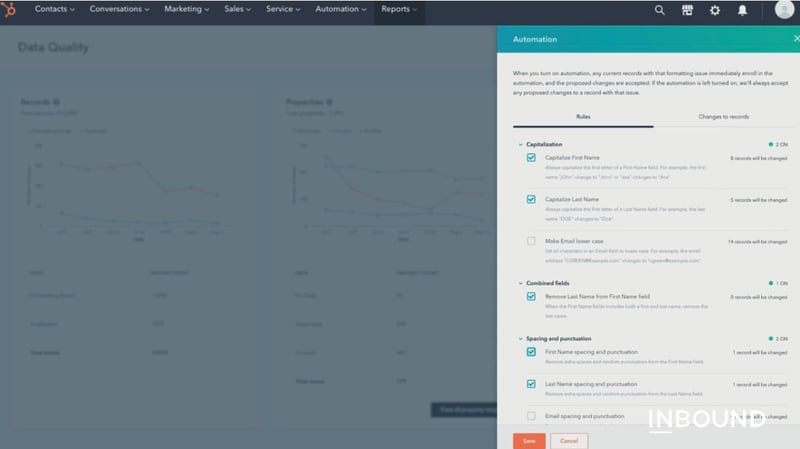 Automate Contract End Date

In workflows, you'll be able to use automation to calculate the contract end dates of customers for the sales team and send reminders ahead of time to take that heavy lifting off the sales team's plate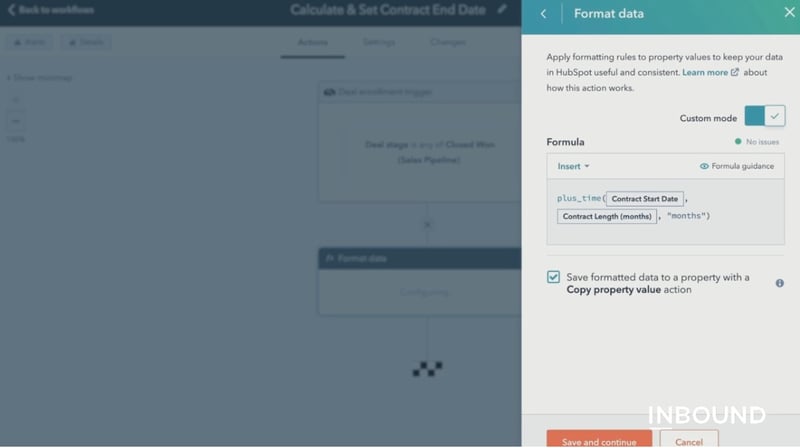 HubSpot Alpha Pay

Alpha Pay makes purchasing a breeze
Insert links to click and pay in emails, use forms to capture the purchase, and an option to book paid meetings
It's a super simple way to bring commerce online and make it very easy for customers to pay you
Alpha Pay allows customers to pay with any major credit cards, ACH bank transfer (no fees for you), and the ability to set up recurring payments
Connect Your Finance Software

Auto create invoices and connect with finance platforms to make accounting seamless
Connect your finance software for seamless integration
More Free Features

For new businesses starting out, HubSpot has made even more platform features completely free
To learn more about HubSpot's newly announced features, click the button below.
Building a Connected Community
At its inception, Inbound marketing wasn't a product - it was a philosophy. Through this philosophy, a community was born.
HubSpot now celebrates 16 years of this Inbound community. But now in the current digital landscape, nothing seems to be working and there seems to be an overall feeling of a lack of help.
Community is what provides support and reminds you that you matter and you're not alone. We are living in a crisis of disconnection. That's why community matters now more than ever.
Communities help grow your company and further your career. Inbound in modern terms can be defined as value-led growth. Now - there's community-led growth. It's the new kid on the block.
The value added with community is connection.
HubSpot uses the following IDEAL framework to create the perfect community:
Identity. A community has a strong identity of who they are what they seek to accomplish together.
Diversity. A community should have diversity. The more diversity, the more potential for high-value connections.
Engagement. You want to be able to have long talks about important topics.
Action. You should have a marketplace inside so members can sell and buy.
Learning. The community should have a place where members can ask questions and connect the dots between what you need help with and where you can find answers.
HubSpot had an offsite strategy day with the theme: think big! The goal was to generate big, bold ideas. They aligned on one idea: HubSpot wants to solve for the customer. Whatever the customer needs, that's what they want to solve. HubSpot realized a great platform helps but is not enough to solve for the customer. Customers also needed great content too. But even software and content can't completely solve for the customer. There needs to be a community.
HubSpot made a big bet and is going to kick off something new.
A new initiative: a connected community that helps you connect the dots. Called HubSpot Connect (connect.com). It will be the connected community for professionals. HubSpot created Connect based on the IDEAL framework and combines network, marketplace, and engagement.
Some things you can do in Connect are:
Join a study group for a course for any HubSpot Academy course
Find and hire a specialist for a specific HubSpot need
And so much more!
You can create a free account today. Community gives us a space that shrinks the space between us.
---
What's Next: Connecting with Future Buyers: Winning Mindshare to Grow Marketshare
Speaker: Allyson Hughley, Global Director of Customer Insights at LinkedIn
Recently we've been seeing lots of new 'business pressures,' specifically political ones (war in Ukraine, the Great Resignation, etc). People have feelings of uncertainty from Monkeypox, new strains of COVID, and continually going through things we thought were already solved.
There are now gaps in basic processes we assumed would always be there, such as going to the office or sending children to school in-person. With all of these new outside factors, it has simply gotten harder to get into customers' minds.
B2B and B2C mindsets are also changing, and companies need to help customers navigate this 'new normal.'
There's a need for new navigation tools, new concepts and frameworks, and new metrics for how we need to break through.
There are 3 Keys to Connecting to Future Buyer.
3 Keys to Connecting to Future Buyer
1. Break Barriers Through Evolving Content
Post-COVID, confidence levels among C-suite executives are down. Previous structures for decision-making need to evolve. There is a 'hunger' for navigation and how to navigate the new normal.
There is also a renewed focus on the future - forcing C-suite, especially CMOs, to look as forward as possible.
Online, future buyers are struggling with "more content of lower quality.
According to a recent survey on B2B decision makers thoughts:
66% say the pandemic created a huge increase in thought leadership
81% say thought leadership that offers provocative ideas that challenges their assumptions is what they're looking for (not stuff that validates what they already know)
71% want content that stimulates their mind and makes them think differently
Decisions are increasingly made by a committee of individuals. In fact, the average B2B buying committee is made up of 6.8 people.

Targeting director and manager level titles is actually more efficient, as these are becoming more of the final decision makers. C-Suite levels don't want to make final decisions as they feel their jobs are constantly in jeopardy.


2. Create Mental Availability - New Outcome Models
CEP - Category Entry Points: create connections for your future buyer base by focusing on situations and memories that will motivate them.
Focus on memories and situational awareness to stay top-of-mind. There is a direct link between Category Entry Points and likelihood to buy - the less CEP a buyer associates with a company, the higher the likelihood to purchase.
3. Understand Future Buyers and Changing Buyer Demographics
By 2025, 27% of the workforce will be comprised of Gen Z employees.

To capture marketshare, brands need to start building relationships with Gen Z now. This generation moves a lot, and has moved a lot even before COVID. There are more challenges to stay in touch with them in marketplace as both career paths and geographic locations are changing.

However, Gen Z also has a 'craving for stability.' The idea of being trusted will be harder to earn, but once it's earned it's more likely to stay
Z also has a higher aptitude for social awareness (3 in 10 care about politics and social issues).
Key attributes of Gen Z are:
They are very career-motivated - 77% think they'll have to work harder than other generations to succeed.
Their view of brands is very holistic - Gen Z is very informed and does their research, will evaluate products and features based on how the company 'shows up' - how do they treat their employees, etc.
They expect diversity and inclusion to be a given versus something they actively search for - because once they don't see it, they move on.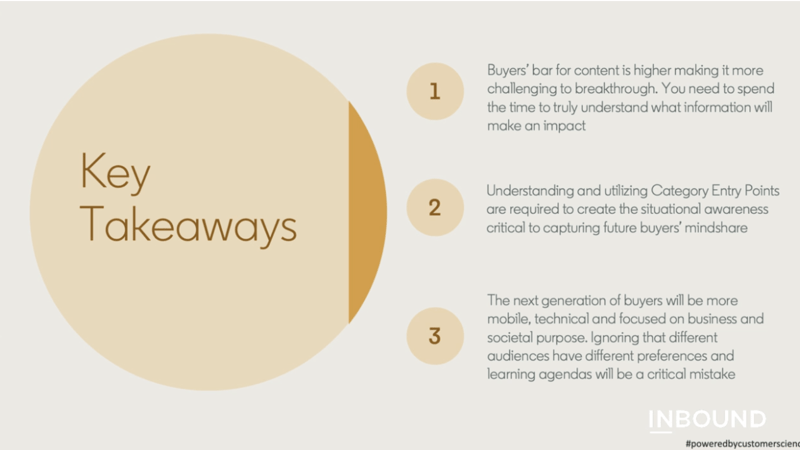 Ignoring that different audiences and markets have different preferences will be a critical mistake. Each group has unique content preferences and learning agendas. Diversity and inclusion is not added under Gen Z as it is engrained in this generation, whereas every other generation grew up being taught it.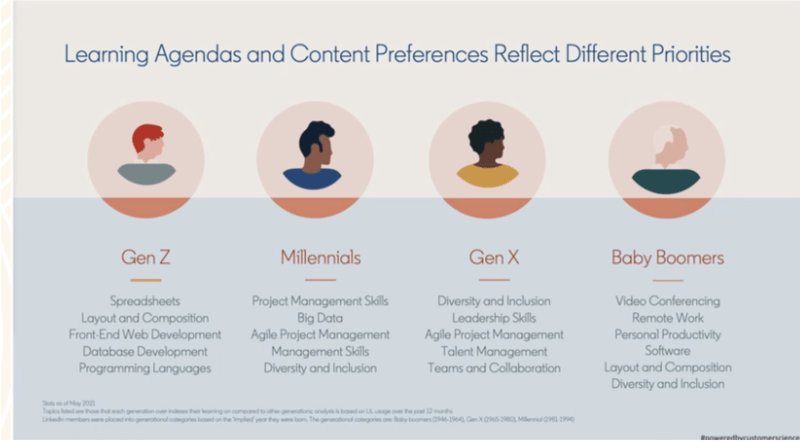 ---
Marcus Sheridan Session: What's Next: The Seller-Free Economy
Speaker: Marcus Sheridan, IMPACT author, speaker, partner
Key Trends:

1) Misalignment between sales and marketing - Marketing understaffed and under-resourced
2) Buyers are now 80% through the sales process before they actually talk to a sales person
3) 33% of all buyers today say they would prefer to have a seller-free experience (for millennials, this number is 44%)
- most significant sales and marketing trend in years, not enough convo
4) More than ¾ of buyers and sellers saying they prefer digital self-serve and remote interactions with sales
Even post lockdowns, these trends have continued to go up.


The buyer is in control. Leadership team meetings need to repeat this phrase and recognize it, and let go of the idea that "we're in charge of this sales process" and that that the buying process "happen as we think it should."
What will be fundamental to your business in the future?
-Platforms? No.
-Principles? Yes. Trust is key.
Businesses shouldn't assume they're so unique that they can't apply a 'They Ask, You Answer' philosophy. The ones that see commanaliities and overarching principles are the ones that succeed. Sheridan suggests saying to yourself, 'Will it induce more trust,' when considering strategies/techniques, etc.
If you want to become the voice of trust in your space, you have to be willing to:
Talk about that which no one else in your space is willing to talk about (only 10% goes there). Cost and price is a big one.
Show that with what no one is willing to show, specifically through video ("There is no secret sauce! It's just Thousand Island Dressing!"
Sell in a way that no one else sells in your space. Reinvent the sales process - don't do it like everybody else.
How to stand out with self-service (seller-free):
References the amazing Choose Your Own Adventure Books (people liked these books because they had control)
When people are on your website, do they feel like they are completely in control of their buying experience?
Examples:
1) Self-scheduling
Take a look at Yale Appliances. You can go to the website to self-schedule. If you go and try to schedule time, you see their sales people and their bio and can choose who you want to work with. The close rate is 62% higher if the person chooses who they schedule with. It doubles revenue.
2) Self-selection

Self selection is the most critical thing that everyone should be doing.
Guide visitors through your website as if they were talking to a member of your sales team.
Example: Manufacturer of fiber glass pools → Most people ask 'what's the right type of pool for me?' → let people respond to questions (simple questions, not more than 10) like, "what shape would you like"?
This lets the pool company know who isn't a good fit by providing questions that would root out those they can't service. On their website, the pool company will tell them to buy products they don't sell if they're not a fit and where to get it. They create a report that details out the pools they should get. They recommend competing companies on the site, essentially. Drives a ton of leads (100-200 a day), but also ensures they're quality leads (example - if they want a guitar-shaped pool, they can't manufacture that in fiberglass and will refer contacts elsewhere)

3) Self-pricing

-B2B service-based businesses tend to not like this
-Pricing calculators are a + not a -
-Showcase the hidden costs
- Include price estimate - no one is doing this or is giving them information or a range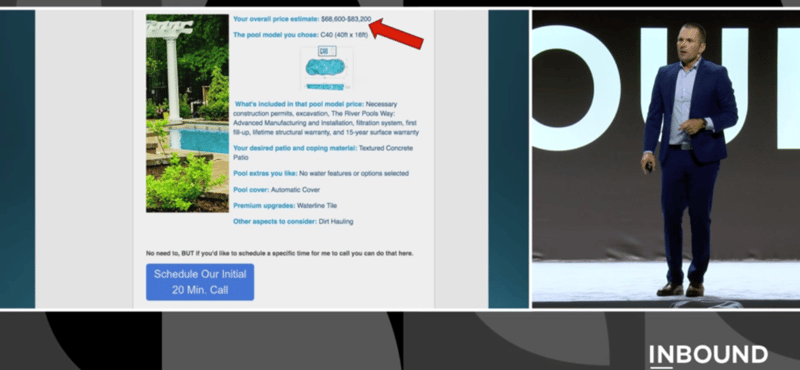 At the end of the survey, request email, first name, and last name via form as a gate to the final landing page. LP has introductory video to add the human element, plus a price range.
"Is that price a big range? Yes. But no one else is providing any of this information up front."
There are five other manufacturers in the pool space, and because of the pricing tool, they get more than the five companies combined (300 in a day was a record) - Because they're doing something companies in their space aren't doing.
"My obsession is that I want to be 5 to 10 years ahead of everyone else in my space." Seller-free is about future proofing your business.
5 Action Items to Take
Accept today's buyer trends as they are within your org
Train sales on effective remote/video selling
Make self service a major part of your customer experience
Apply, 'they ask, you answer'
Double down on training sales team on how to truly become 'trusted advisors'
---
What's Next: Building an Organization to Fuel the Flywheel
Speakers: Ashley Faus, Atlassian Director, Integrated Product Marketing. Robert Chatwani, Atlassian CMO.
What are our growth engines?
Revenue
Product
Business Model or Operating Engine
The Flywheel's goal is to remove as much friction to the buying process as possible and accelerate force (sales velocity)
Starting, building and scaling a company -
Remove as much friction as possible. Get out of the way of the customer. Apply force. Almost 100% of content is ungated - create so much value before they buy!
Empowering your champions - your best customers are allowed to connect and embrace what they love and talk openly about what they don't.
Be patient to be greedy - land with one product and grow and scale other products and revenue based on delivering one great product first.
The Great "Ungating" - empower costumes with what they need to make a decision. Review every gated piece of content you offer and test it from the customers perspective.
A version of a "funnel" you're managing against…treat the funnel like a roadmap (owner, driver, choreographer…know how all the pieces to fit and work together); Buy your own products once per month and find the friction points and the blockers to growth.
Think laterally and horizontally across the customer journey and experience.
Philosophy - Work radically open. Open company, no bullshit - it's an incredible superpower. Accessible to everybody - be as open and transparent and allow everyone access to the information and people they need to be successful.
Hiring and building company for the Flywheel -
Values and character first - aligned with organization
Energy - are you a multiplier
Competence - do you have the skill?
What are the things that are scary to touch, or "sacred cows" in your business. Write them down. Look at them and see which one you can flip on its head, do away with, radically change? Those are likely the things preventing growth, innovation, change.
---
The Future of Customer Privacy with Google
Speaker: Parish Aggarwal, Google Head of Ads Measurement and Privacy.
Privacy and Performance are not at odds and will work together to provide the best results in the future
User Privacy: Why it matters
Almost 2/3 of people do not trust companies to protect their data and privacy online— indicator that we need to make a change.
Customers are more willing to share info when they believe a brand is responsible with their information
Companies are investing in privacy solutions so customers trust them more
How is the privacy shift effecting marketers
Consumers have more privacy choices and more regulations are being put in place
If marketers don't adapt and change with these new privacy regulations it causes their old data to have huge gaps
Its harder to rely on accurate data measurement
Approach for marketers to drive privacy safe growth
Use first party data and infastructure.
First party data is information you collect directly from consumers. Data in your crm systems or any personal company client directories
Only 30% of marketers are collecting first party data across channels
Only 1% are using first party data to deliver a full cross channel experience
Collect first party data and get more observable conversions using Google Tag or Google Tag Manager
Use GTM by tracking website purchases so you can accurately understand your conversions and build reliable first party data
Measure data more accurately with modeling and machine learning to fill in the data gaps.

Invest in multiple technologies: customized for your business

GA4: Google with force its users to switch to GA4 in 10 months from now
Google Tag Manager
Utilize consent mode.

76% of users ignore consent banners and consent mode solves for this
Cookies will continue to degrade and companies will have to move toward more aggregated measurement solution
Utilize machine learning.

Automated or smart bidding on ads
First party data + automated bidding = 27% increase in conversions
Customer match is the privacy first solution for a cookie less future

Marketers that use customer match lists experience 2x higher CTR's compared to those that don't
Prepare for the privacy shift now and become:
Industry Leaders
Future-proof and fill measurement gaps
Get an early advantage and allow models time to gather gather data, learn from it, and optimize to your advantage
---
Spotlight: Mapping Out the Moonshot
Speakers: Emma Grede, Good American Co-Founder and CEO. Zinhle Essamuah, NBC News NOW Reporter.
Zinhle Essamuah interviews Emma Grede, a self-proclaimed "serial entrepreneur." Emma is the first black woman Shark on Shark Tank and is considered the Kardashian's favorite business partner. Emma's strategy she's used time and time again is to disrupt the market and offer solutions that no one else solves for.
Did you have difficulty finding investors for Good American?
Finding investments is such a big issue for so many women. The primary reason I ended up in Shark Tank is to help women and women of color to get funding for their entrepreneurial ventures. Good Amercian wasn't my first rodeo, so I didn't have too hard of a time finding funding for that. But, it was difficult when I first started and really focused on networking and building genuine relationships with people.
How do you make your decisions?
I make decisions based off my gut. It's what I've been very good at in my career. Also another thing I'm good at is preparation. I have been very, very prepared for my moments. There was nothing flashy about my journey, it was 15 years of hard work and starting at the bottom. I gained knowledge throughout each part of my 15 year journey and used each skillset I learned along the way. I was also very patient. My entire journey taught me invaluable lessons and when I messed up I would learn from my experience and try again.
The first company I started was an entertainment agency and made all of the critical mistakes. I put too much onus on myself, underinvested, and hired the wrong talent. I went into LA, a city I knew very little about, and made all the mistakes and had to shut down the office and let go all the staff.
This time with Good American, she learned from her mistakes and went about things the right way.
Do you have a mentor?
I have made a point to seek out people who will be very honest with me. I am hyper aware of what my strengths and weaknesses are. By doing so, I can be a pro at staffing and fill positions with people that fill in where my blind spots are.
I don't have a mentor, but I like to surround myself with honest people for whatever I need. I use my network of people who are very open and share their learnings, their past mistakes, and will be very honest with me.
What is the Fifteen Percent Pledge?
The Fifteen Percent Pledge is America's fastest growing non-profit. We are very focused on economic justice and ensuring the next set of black owned businesses are supported. We ask businesses to dedicate 15% of their shelf space to black owned businesses.
We want to give opportunity to those that might not otherwise get it. The Fifteen Percent Pledge created a $10 billion dollar pipeline to support black owned businessses. You'll now see brands on the shelf that weren't there before.
Talent is relatively evenly distributed, but opportunity isn't. There's a huge misconception that black owned brands are for black people, but that of course isn't the case. Everyone can benefit from increasing black owned business.
How can businesses make an positive impact on diversity?
I created Good American because I saw women of certain sizes being completely ignored by the market. I think of diversity as a superpower of business, and have proven so over and over again.

While it's important to have a DE&I charter, the time has come to actually do something and move the needle.
The pledge is now a full time occupation of mine. It's a real organization and that's how we've been able to be so successful in creating actual change. It's important to be purposeful and impactful. I don't want companies to help simply because we feel like we have to rush to reach some magical number. I'm not interested in quick fixes, I'm interested in sustainable growth.
I always say, if you don't know, find someone who does. If businesses want more diversity, have a black person do the hiring. If I want someone for fulfillment, I could find someone but not necessarily the best someone because I don't have the network for it. Find someone who brings their unique network of people to solve for it.
In America, it's very hard to have conversations about race. I've removed that completely from Good American. I don't place stress on semantics and instead want to focus on creating a culture where it's ok to make mistakes, receive correction, and learn from it.

Do you have any advice on businesses looking to scale?
I am customer-obsessed. I wake up every day thinking about the customer. But of course, not everyone can take that same obsession once you scale the business, nor should they. Not everyone will care as much as you do. It's all about priorities and bandwidth and creating the right culture. For SKIMS, I decided we will be really focused on the product and the customer. We don't speak about other things, we focus on what customers are saying, what issues they are facing. What do they think of your brand?
Having a customer-centric approach and authenticity and taking accountability for times you mess up creates a two-way street and commmnunity with their customer.
How can businesses leverage social media if they don't have the Kardashians to share their posts?
Well, to that I say I'm sorry you don't have the Kardashians, they are amazing!
But honestly anyone can utilize social media to their benefit. There is as much interest in what's going on behind the scene and the journey of getting there as there is in anything else. People like stories and being invited into the process of development. That's where I have found success on social media. Take customers on a journey. How do you get customers to invest in the process and feel involved in the company?
Getting people invested is so relevant for so many different types of businesses. Staying connected to a wide network of people can truly benefit your product as well.
How do you handle criticism from others?
I think there's a misconception about who is supposed to do what. I often get asked if, as a school dropout, should I be the one to lead all these companies. And the answer is yes. There is no cookie cutter path. There is no education or path that leads you to do something great. I believe you end up in the place you're supposed to be. I've been doing this since I was 24 and it just so happened some of my ventures worked out.
How can you encourage connectivity with your customers?
It's always about technology and how it can really empower our customer base and community. At SKIMS, we launched 1-hour delivery in LA. It's truly amazing. We're in this unbelievable time in life where now we can utilize technology to the fullest. I'm not afraid to cannibilize our products, if you don't someone else will. I never am concerned about being innovative if it serves the client and don't worry about if a new product will take away from other product sales.
What's the worst piece of advice you've received?
The worst piece of advice I've ever received was to stay in my own lane. I've made so much success by not staying in my lane. I think about what do I want to do and what do I want to solve for. The biggest successes have been when I go completely outside of what it is I should be doing, for example my sustainable cleaning line, LIVEKINDLY.
I feel like the single best thing I can continue to do is to keep learning and steer outside of my lane to keep growing.
How do you stay motivated?
I really think quite a lot about what has happened in my life, the great people in my life, and how I got to where I am today. I feel like I've come to point where I can be helpful to others. I think, "who am I doing a favor for or helping today?" It's cyclical and it comes back to you. I've had so many times in my life where I've felt block and it motivates me to think I can be an unblock for someone.
Speed Question Round
What are two considerations when scaling a business?
What are two tips for picking business partners?
Find people who are complimentary to you
Find people who you enjoy
What are the 2two biggest mistakes of entrepaneurs?
Cheaping out
Overestimating yourself
What are two fashion trends to avoid?
Pink is going away soon
Pedal pusher length pants


What are two tips for networking and fighting fear of networking?
Don't have it- Everyone is in the same boat as you. No one is checking for you as much as you are checking for you. Everyone is busy thinking about themselves
British courage: Have a drink and just go for it!


What are your two biggest factors for inspiration and motivation?
Self actualization: I saw myself in a certain way and it's very important to live up to your own expectations of yourself. Did I do everything I intended to do? Did I say everything I wanted to say? And I write it down at night if I didn't and fix it the next day.
You're the only person that has to live with you. Do things that you can live with and don't worry about anyone else.
Want to keep learning? Check out the session summary from the next day by clicking the button below.