HubSpot CRM Best Practices: 5 steps to get the most out of your CRM
by Diana Contreras | Updated Nov 6, 2021
Do feel like you're only tapping into a small percentage of HubSpot's capabilities. Are you looking for ways to better utilize the HubSpot CRM?
If so, you're in the right place. This article provides best practices you can implement within the Marketing and Sales hubs to increase your awareness and reduce the time spent tracking down data or contact information.
The recommendations are based on common pain points expressed by teams we have worked with over the years. Are any of these points relatable?
"I'm paying for all of these contacts, but I don't know who is an actual lead."
"I don't know how to access specific information in my CRM."
"How do I know if I can trust the data HubSpot reports?"
But the most common question is, "How do I make sure I am getting the most out of HubSpot?"
Rest assured, you are not alone, and the good news is there are several easy steps you can take to dramatically increase HubSpot's impact:
Maintain a clean database by utilizing lists to keep your CRM organized
Build actionable reporting dashboards to guide your decisions
Create a formalized intake and sales process to streamline your lead
Tailor your pipeline to align with your organization's process to improve reporting and team engagement
Capitalization on HubSpot automation to ensure your team is spending more time on high-value activities
5 Steps to Increase HubSpot's Impact
Here are five quick wins to get a better handle on your CRM and make sure you are getting the most out of your HubSpot account.
Step 1: HubSpot Lists
Lists are the perfect tool to identify who is in your CRM. Lists aren't just for segmenting for your marketing team. Lists provide your sales team information to help prioritize leads and maintain data hygiene. They also provide information to your account managers to aid in client retention and upsells. Here are several examples of lists your various teams can and should be using:
Customers who meet a threshold and are ready for an upgrade in your service or product offering (Service/Product team)
Customers/contacts who fit a role in their company for nurturing (Marketing team)
Customers who need a little love based on their NPS score (Service/ Product team)
Contacts who aren't a good fit for your company to be cleared out of the CRM (Marketing or Sale team)
Contacts that are missing vital properties to accurately qualify them (Marketing team)
Contacts that just recently hit a Lead Score of 100+ (Sales team)
And unless you are using a free version of HubSpot, you are paying for each one of those contact records.
Don't spend money on contacts that will never convert.
These lists should be active and updated as your processes change or your business evolves. We recommend you keep these lists organized by using HubSpot's folder feature. This makes the task of finding your lists easier in the future. Start by categorizing lists into customers and sanitization folders.
Your "customers" folder will have lists related to customers in your database. Use them to help you serve your customers better and find opportunities for them to become higher paying customers for you.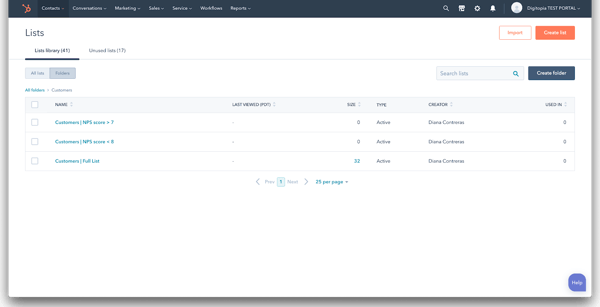 Your "sanitization" folder should store any list that supports the effort of keeping your database "clean". An example of a list would be all of your contact records that have an unknown property critical to your engagement process.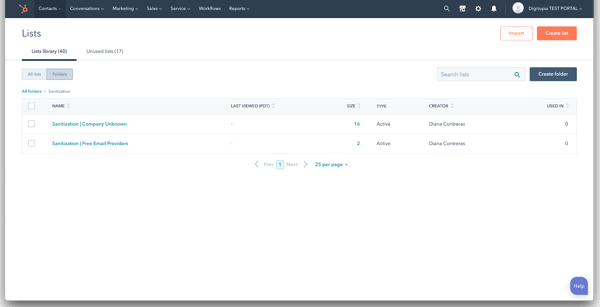 These lists and segments are just a start. Build lists for what you need to know about your customers and lists for contacts you need to cleanout.
Step 2: Reports & Dashboards
HubSpot comes pre-populated with generic reporting dashboards that are helpful but can remain surface level. Gaining actionable insights relevant to your organization may require creating custom reports. You also need to make sure the initial setup of your HubSpot CRM was done correctly and your integrations sync properly to maintain the integrity of your data.
The good news is that HubSpot is continually investing in reporting features, and their custom report builder allows you to create robust dashboards tailored to your needs.
You get a limited number of reports. Make them count. We recommend these 10 reports to make a useful HubSpot dashboard.
Sessions to customer
Contacts to customer
Current lifecycle stage count
New contacts by source
Contact lifecycle pipeline
Average days to close
Active campaigns
Organic keywords
Contacts by lifecycle stage & persona
Contacts by "became a" date
Step 3: Custom Properties & Lead Scoring
Properties are fields that are used to store and make sense of data stored in your CRM. HubSpot has the basics covered to collect key information (name, email, company domain, lifecycle stage, etc.) across contact, company, and deal records. Custom properties are fields that you create when you need to know more about your contacts. Properties can be used in forms to collect data. They can also be updated internally by your team as they learn more about a contact or company.
Special Note: Don't bend HubSpot's default properties to work for your process. If it doesn't exist out of the box, create a custom property instead of modifying a default property. This will help avoid confusion amongst your team and keep the CRM clean.
Common Customer Properties to utilize:
Campaign specific (registrations, interest, topics)
"Identify your role"
Product/service type
Customer/membership level
Account status
Estimated budget
Closed lost reason
This is a default HubSpot deal property, but I like to update to a dropdown select. Use a list of the most common reasons noted by your sales team.
Lead scoring
Lead scoring is a powerful tool to help you identify "hot leads" based on their behavior. It allows you to decide if certain properties positively or negatively impact a score. For example, if a prospect has interacted with 8 of your last 10 emails, it might be time to reconnect.
Lead scoring can have different layers of complexity based on your customer journey, but overall, the outcome is a streamlined method to assist your efforts when prioritizing, nurturing, or disqualifying contacts.
Step 4: Sales Pipeline(s)
Just like properties, if the default sales pipeline doesn't fit your process, change it!
Building a sales pipeline that is actually useful requires:
A formalized sales process with sales team buy-in
Each stage in your pipeline should be a stage that the customer touches
Diligence (updating close dates, deal amounts, closed lost reasons)
Keep it simple
Anyone that joins the team should know what they are looking at and how to use it.
Step 5: Workflows & Automation
Workflows can be intimidating, especially when you start to involve branches. It's easy to get lost in the logic. And they aren't just for automating emails! Workflows can set, clear, or update properties based on dependent properties (deal stage or lifecycle stage). Doing this helps to solve for things that often fall through the cracks during each stage of your funnel.
That said, it is common to hear the question - "Can we automate this?" Just because you can automate something doesn't mean you should. The reason? Automation in excess removes the human connection and authenticity in your communication. Automating everything can result in a huge mess. You often end up with workflows that contradict each other and errors in enrollment. The data becomes difficult to clean up. To avoid this issue, keep the following questions in mind when exploring if automation is the answer.
Before automating ask yourself these questions:
Can I maintain the same level of accuracy in my data that I get from doing it manually?

Sometimes manually performing a data pull or updating a property avoids errors. Workflows are powerful, but when data needs to be hyper-specific, they limit what you can do.

Is this really a burden on my team?

Taking something off your team's plate when it isn't an issue can remove your team from a process they may be garnering secondary insights from.

Is this process formalized?

If your process isn't formalized, adding automation complicates things in your CRM. It introduces room for error when you need to update your workflow, especially if there is more than one factor driving the end result.
Useful Automation:
Mapping properties across companies & associated contacts

This is especially helpful for B2B companies. While you do business with specific contacts at the end of the day the customer is the company and contacts are the end user of the product or service. If this is the case, mapping a company lifecycle stage (customer) to the contact level lets you identify whether or not the company has a relationship with you when communicating with associated contacts.

Lead score to set lifecycle stage
Useful Email Automation:
Welcome email series
Campaign follow-up
Reminders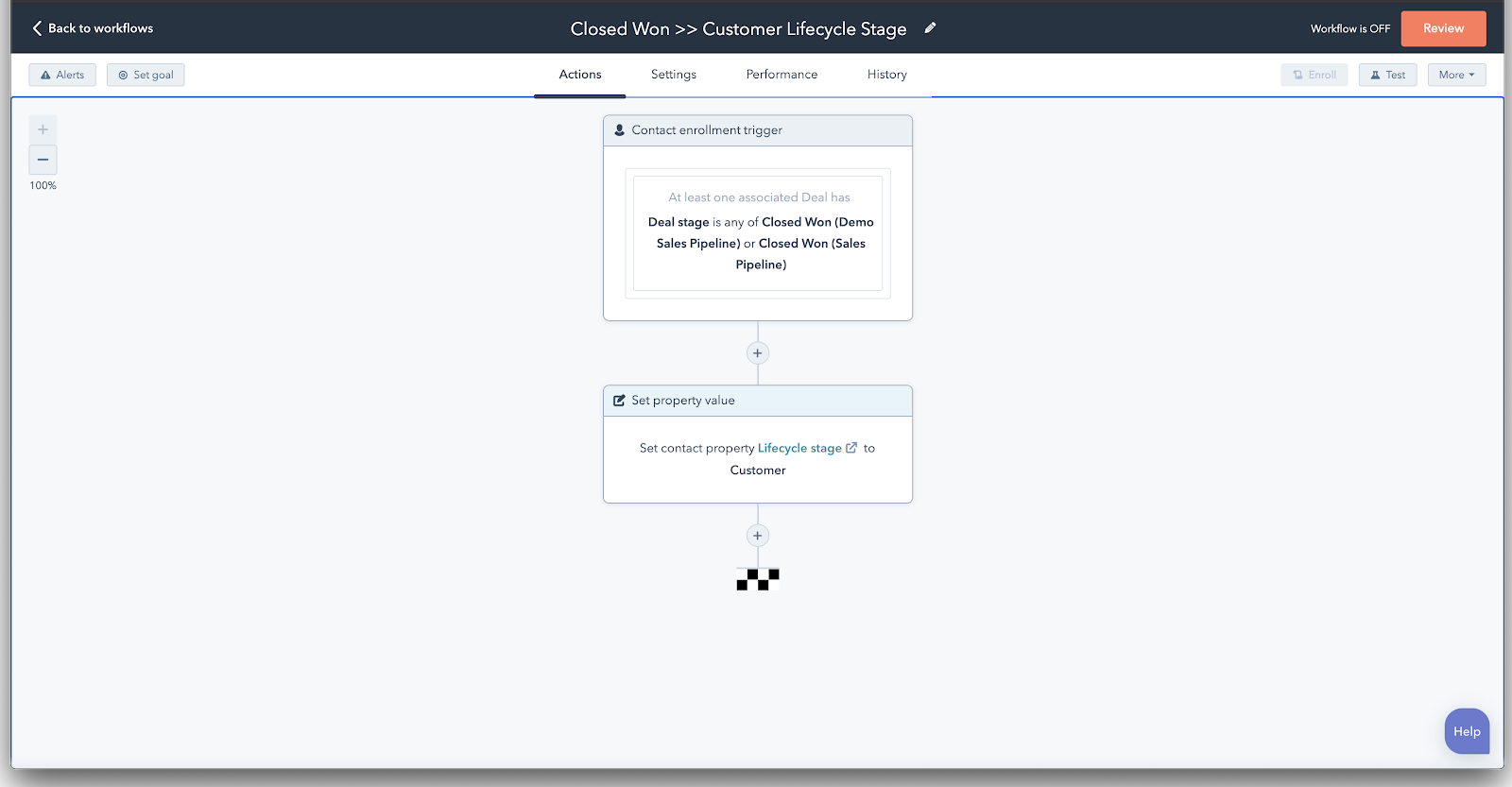 Useful Deal Automation:
Task creations for sales team based on deal close date, deal stages, last activity date
Set deal stage closed won to customer lifecycle stage
There are definitely more areas that will streamline your efforts, but the best practices outlined above are the quick wins that will help gain traction and setup you up for future efforts.
Need help? Learn more about our free 30 minute working session. In this no-obligation learning session, you have the full attention of an expert HubSpot strategist. Together you will identify the top areas that will increase the impact HubSpot brings to your organization.