Digitopia Named by Clutch as San Diego's Top 2022 B2B Company
by Digitopia | Updated Jul 22, 2022
Digitopia is the premium inbound marketing agency that helps IT and SaaS companies grow effectively using the Digital Utopia Methodology™.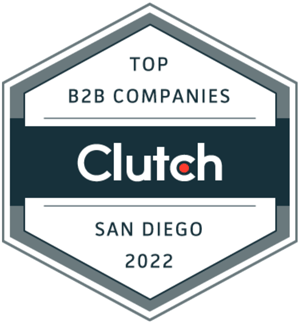 Founded in 2018, we've been leading the charge in helping companies grow faster and smarter on HubSpot using systematic approaches and frameworks for inbound marketing. when it comes to providing game-changing strategies to our partners in their mission to stand out from the competition. We believe that your customers are at the center of your business, and we provide you with everything you need to reach them.
Today, we're delighted to announce that we've been recognized as a top agency on Clutch. According to the B2B platform, we're one of the leading content marketing companies in San Diego, California this year.
Clutch has been an integral part of Digitopia's growth strategy in 2022. To be recognized as a Clutch leader is an absolute honor.
— Joseph Freeman
CMO, Digitopia
Clutch is a B2B ratings and reviews platform committed to helping small, mid-market, and enterprise businesses connect with service providers globally. Clutch bridges the gap between clients that are in demand of a type of service and the vendors that can effectively deliver their needs. The platform is invested in making unbiased information from each vendor's previous clients easily accessible.
Check out the latest feedback from our Clutch profile:
They are always willing to go the extra mile and have ensured that we are meeting our goals.
— Associate Marketing Manager
Analytics Platform
Their associated content and tactics provide a plan for success that most digital marketing agencies don't have.
— Daniella Chuckran,
Partner, Aspiriant
A huge "thank you" to all of our partners who shared their testimonials about our work.
If you need help with HubSpot and/or you're ready to install a systematic inbound marketing strategy in your B2B organization...