The Basics of Building Online Reviews
by Jenny Foster | Updated Nov 9, 2021
https://www.facebook.com/DigitopiaAgency/Want to gather more online reviews but unsure how? Most of America's small businesses are in the same situation. There are 3 major players right now - Yelp, Facebook, and Google. I don't think that's surprising to anyone, these are well known websites, some of the top trafficked across the web. Nearly everyone in America has a login to at least one of these sites, making them powerful but underutilized tools for your small business.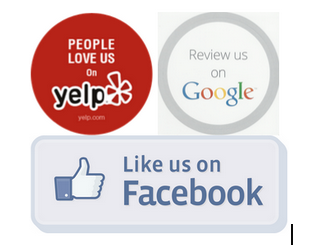 Please note, Ecommerce/product reviews are a whole 'nother beast, these tips are best for SMB's who have a storefront or cover a service area!
There are a ton of websites that let you leave online reviews, some are industry specific but many allow for multiple business industries. Once you hammer down a definitive strategy for Google, Yelp, and Facebook you can emulate the strategy and focus on all those niche review websites.
You'll need to create a strategy to ask for reviews so you can be collecting them on a consistent basis. The most successful online review strategies make a point to incorporate gathering the reviews as a mandatory business operation. The whole team should be invested and incentivized to do a good job and earn a good review from each and every customer.
Gathering online reviews is one of those things that's always easier said than done.
These Do's and Don'ts should help guide you to create a consistent, "kosher", and long term online review strategy.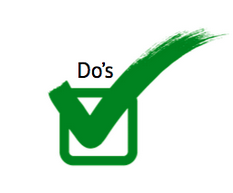 DO Create Email Campaigns and Surveys
Create a unique template you can send to your customer database every 6 months or so. Make it specific to your business and make it easy to leave a review by limiting the options to Google, Yelp and Facebook. You'll need an email database for this strategy so make sure you're asking for that info too!
Pro Tip - Encourage people to "share their experience" or "tell us what you think" as opposed to asking people to just rate us or review us. This has also proven useful to make sure the reviews left are packed with SEO friendly keywords!
DO Signage in Store or On a Service Vehicle
Having imagery to back up your strategy is great because it lets everyone know to leave a review and that you encourage it. Many retailers have stickers on the checkout registers, clings on the window or even cardboard signage to encourage reviews. Service providing businesses can make magnets for their vehicles or leave small cards/ flyers behind to encourage a review after the service call.
DO Ask Customers in Person
No matter what industry you're in, the most effective form of gathering reviews is by simply asking for them. After each checkout transaction, project completion or service call ask your customer to leave a review of your business. Emphasize the importance of customer feedback and offer a sense of appreciation for their taking the time to do so.
DO Create Video Testimonials from Great Testimonials
Hopefully all the reviews you gather a good, but every once and a while you'll get one that really stands out. Try to follow up on those by taking a video testimonial, a happy is customer should be more than willing to do a short video to explain the thought process behind the review. This type of content can be invaluable marketing material.
DO Respond to Reviews
Both positive and negative reviews should be acknowledged, it keeps the online review ecosystem in balance. Learn from the bad, appreciate the good, it will serve you well for converting new business based on those reviews.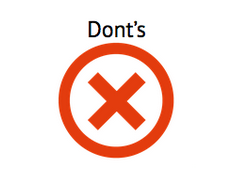 DON'T Offer Incentives for Reviews
This will not lead to long term reviews or useful reviews. It seems like a great idea but in the long run it will cost you more money than you make and lead to reviews like "it was good" or "that place is nice" which don't offer any feedback or opportunity to learn.
DON'T Email Direct Links to Your Online Review Profiles
It's tempting to send out that email with 3 links to your business Facebook, Google and Yelp pages, but the algorithms behind these websites have gotten savvy to the practice and will filter most reviews left by directly linking to the page. Instead prompt the customer to find you on those websites, the one they use the most or like the best and leave a review after searching for you.
DON'T Have a Single Computer in Set-up in Store for All Reviews
This a big no-no in the online world. Even though each customer would sign into their individual accounts the IP address for each review left would be the same. It's another huge signal to the websites algorithms to filter that review. The best way to gather a review is from individual mobile devices or home computers.
DON'T Try to Get All Reviews in the Same Day
Many SMB's make a push for a day or a week for reviews, they will see some success and then stop all efforts. It's common place to look back 2 weeks later and see that only half of the reviews left have actually stuck. Gathering more than a handful of reviews in a day will cause your reviews to be filtered or flagged for removal. Slow and steady wins the review race.
Digitopia is passionate about helping businesses grow by tapping into the power of social media and SEO. To discuss how we can help you grow your business, contact us today.