How to Optimize Your Facebook Business Page
by Nicole Barbato | Updated Nov 9, 2021
Facebook is a valuable way to reach your target audience through advertising, connecting with fans, garnering reviews and responding to and engaging with customers.
According to Facebook, their platform reaches over 60% of the internet's users and the reach is not just individuals. There are over 80 million small businesses that utilize Facebook Pages. (Sourced by HubSpot's Marketing Stats) If your business is using Facebook, make sure your Business Page is optimized for success. Follow this check list to ensure you've completed the necessary steps to help your audience navigate and engage with your brand on Facebook.
Page Optimization: First Steps

Verify the Facebook Page to ensure it's easy to find in search. Request a Blue Verification Badge

Customize the vanity URL using this: https://www.facebook.com/username

Set up a Services tab (if your client/business is service-based)

Set up Place Tips (you have to order a beacon) to provide visitors with more information about your business when they visit

Add YouTube, Instagram and Pinterest and other social network feeds to your Page

Choose a Call-To-Action (CTA) for your Page - Contact Us, Sign Up, etc.
Optimize the About Section
To edit your About Section, go the the Admin Panel and click on "Edit Page". Then select "Edit Settings" and go to the "Page Info" tab.

Review the About Us section to make sure all necessary information is present
Google Indexes Facebook Place Pages so you should further edit the "Long Description" field in the Page Info settings. Add keywords here that are specific to your business and services to help Google index your Facebook Page and display in Google's search results.

Make sure the proper category is chosen for your business
Facebook users can use search terms to find business places, among other brands and groups. The results are filtered by obtaining the information used in the page's "About" section, mainly the "Category", "Subcategory" and "Address/Location". Properly setting up your "About" section for your Facebook Business Page will give you a better chance of showing up in the Facebook Graph search results.
There are two ways to set up your About section, and is based on visual preference:
A) If the Category of the page is set up as a "Local Business" then the contact info and hours will display and there is no ability to add any other content here.
B) If the Category is set up as a "Company & Organization" then the content can be completely controlled by you! Edit this content in the "Short Description" field in the Page Info settings. The space here is limited when displaying on the profile page and only 3 lines of content will display (the first line is the page's subcategory).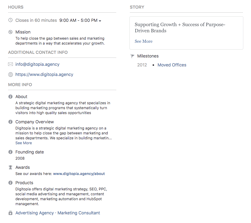 Sprinkle the Business Page with keywords for search value
Optimize Contact Information

Make sure you've included the name, phone number and address of the business

Include a link to a website or landing page
Additional Features

Install Messenger if you'd like Page visitors to have the ability to message directly with your Facebook Business Page (only consider this if the company has someone who can regularly answer questions). If you/the business chooses to do this, you can add a payment option, too, and display your response time.
Customer Service/Communication

Ask clients for FAQs and draft responses in 'saved responses' in the messages portion of Facebook
Facebook Advertising Options

Decide whether or not you want Facebook to have the option to have boosted posts go to Instagram. You can enable or disable this feature in settings.

Upload existing email lists from clients to use for advertising

Add your business/client to Business Manager

Add your business/clients' Ad Account to Business Manager

Create a pixel for advertising
Digitopia is passionate about helping businesses grow by tapping into the power of social media. We understand the root objective is to create a profile that garners relationships with your customers, prospects, and clients. That's where the Digital Utopia Methodology comes in.
Take the first step and learn more about our Methodology and download the Digital Utopia Blueprint.