We Took 12 HubSpot Academy Courses in 1 Day: Review Our Key Takeaways
by Krystina Gillenwater | Updated Jan 17, 2022
As marketers, we live in a fast-paced world with a 24-hour news cycle in which marketplaces, software and tactical competitive advantages are constantly evolving. Whether you're a beginner or an expert, it can certainly be a daunting endeavor to keep oneself up-to-date on all of the latest concepts, strategies and technologies.
Luckily, there are a myriad of great resources we can look to for guidance, support and training. A favorite of the team here at Digitopia Agency is, HubSpot. HubSpot, an industry leading, enterprise-level marketing, sales and customer service software company, is also one of the preeminent authorities on all things Inbound Marketing - the most widely adopted marketing philosophy today.
In addition to its blog, guides and ebooks, templates, and tools, HubSpot provides... HubSpot Academy.
What Is HubSpot Academy?
HubSpot Academy is a sophisticated online learning platform on a mission to, "transform the way people and companies grow by offering free online training for the digital age. From quick, practical courses to comprehensive certifications, you'll learn everything you need to know about cutting edge business topics."

What are HubSpot Certification Courses?
From sales enablement and email marketing to content writing and customer retention, there is a certification option for nearly any marketing, sales or customer service skill you're trying to improve. There are also beginner, intermediate and expert options.
Each certification is accompanied by an optional course that includes a set number of "lessons," in which the HubSpot Academy Team provides students with short form, on-demand videos that are packed full of relevant subject matter, insights and expertise. Each course also includes study guides, practical exercises and mini-quizzes to test your knowledge as you go.
After completing all of these lessons, you can then take the final certification exam testing what you've learned.
If you pass (over 75% correct answers), you receive a printer-friendly certification and badges to add to your LinkedIn profile.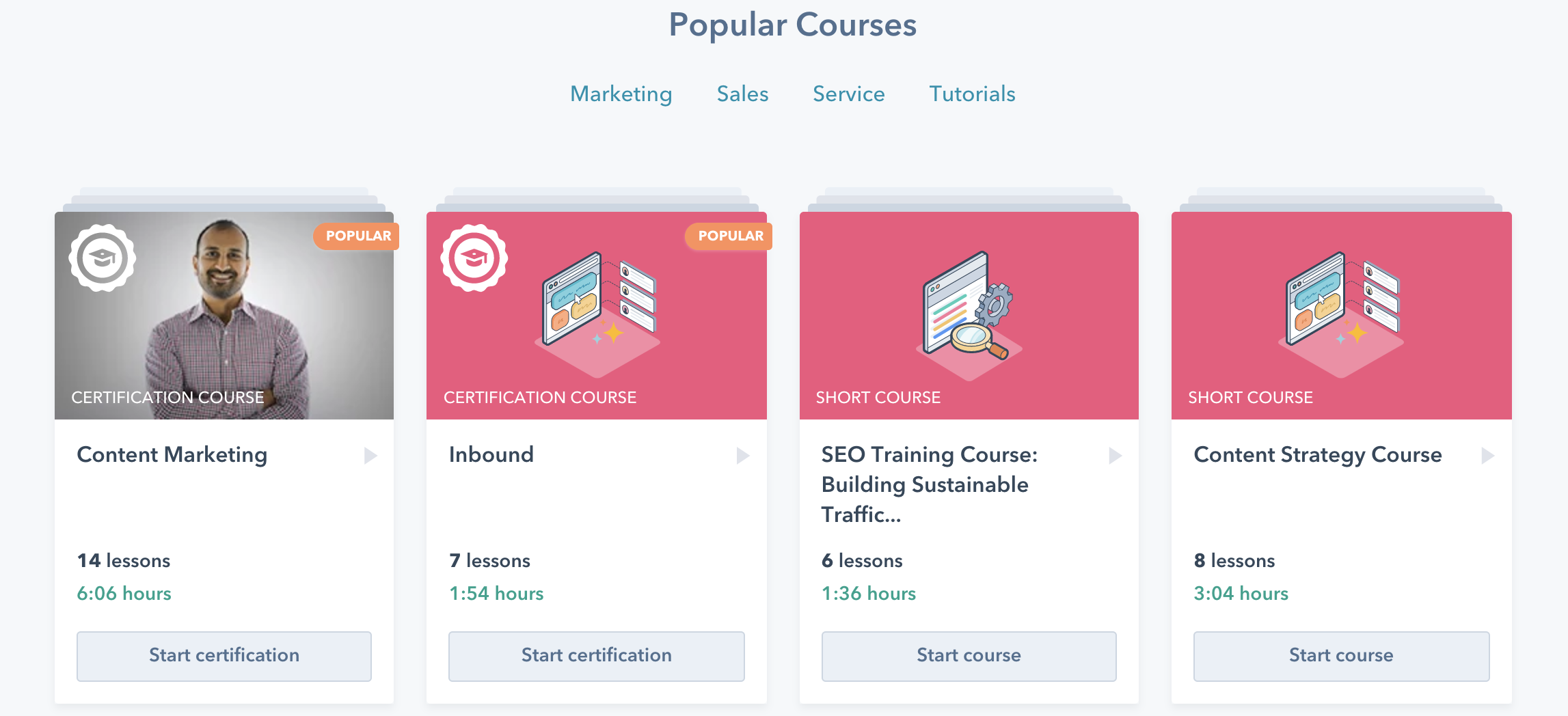 Why Did the Digitopia Team Take All These Courses In 1 Day?
Each quarter our agency blocks out a full day geared towards training, learning and professional development known as Certification Day.
Certification Day at Digitopia is part educational and part cultural enrichment. It's not about crushing certification goals, or earning badges. It's a chance for our team to galvanize around a common goal, broaden our knowledge base and better ourselves for the benefit of our colleagues and clients.
HubSpot Sales Certification Courses
Course Description: The Sales Enablement Certification will teach you how to develop a marketing-driven sales enablement strategy. This course was designed with marketing managers in mind, but other marketers as well as sales leaders can benefit from learning the principles involved in this approach to sales enablement.
Digitopia's Key Takeaway(s):
Lead qualifying: if a prospect comes to you with an already known budget and timeframe (B and T from BANT...budget, authority, need, timing) it's likely that someone else has already won their business. Most prospects don't know what a budget and timing should be so it's likely a competitor has educated them on this already. You should be looking for prospects with Authority and Need first and sell them on Budget and Timing.
Response time: calling a lead within 5 minutes of them filling a form increases your chances of closing 1000x (not 1000%).
Internal Alignment: create an SLA to align your internal marketing and sales team's.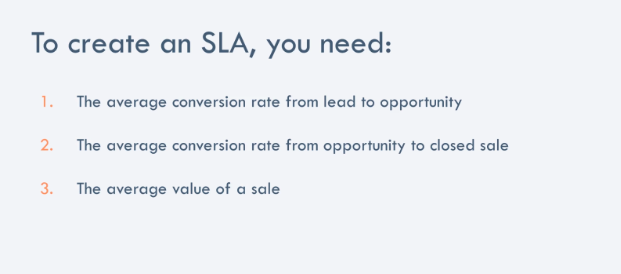 Course Details:
12 lessons
40 videos
12 quizzes
4:29 hour(s) completion time
2. Selling Sales Service - Paid Course
Course Description: The Selling Sales Services course will teach you how to package, price, and sell sales services to your existing clients.
Digitopia's Key takeaway(s):
Establish: your baseline set of sales services.
Familiarize: yourself with the different types of sales services.
Understand: which services are recurring and which ones aren't.
Expand slowly: into offering sales services.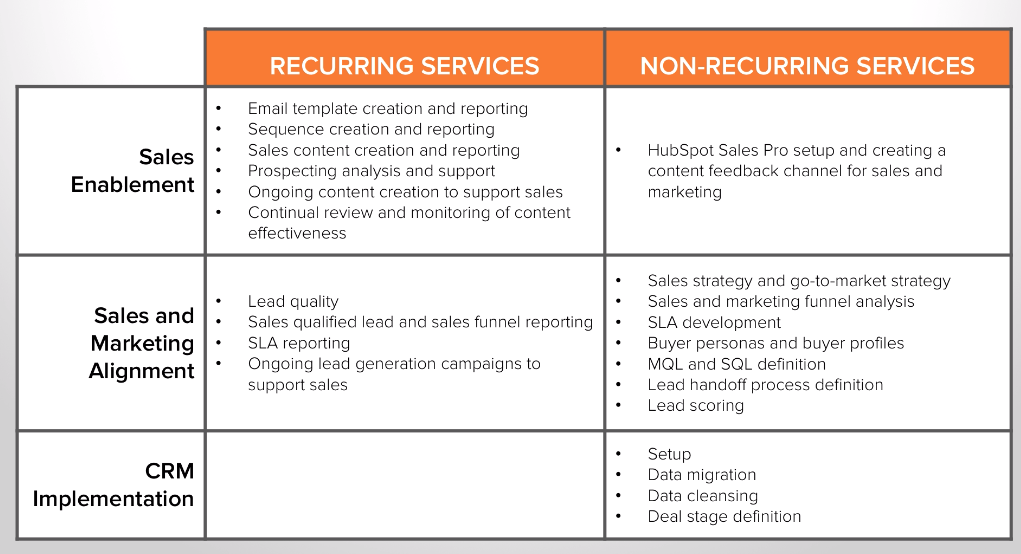 Course Details:
2 lessons
7 videos
1 exam
1:00 hour(s) completion time
3. Developing a Sales Plan - Paid Course
Course Description: The Developing a Sales Plan course will teach you how to put together a focused and actionable sales plan.
Digitopia's Key takeaway(s):
How do you set up a plan: list your agencies top 3-5 priorities, list who your agency wants to sell to, list your sales team and their roles.
Agency priority examples: growth goals, organizational goals, partnering goals, targeting goals.
Proper goal setting: clear outcomes, approach on how to achieve them, activity-based goals and milestones.
Determining metrics: start from the end and work backwards: clients -> opportunities -> consultations -> leads (for example).
At HubSpot, their team focuses heavily on: number of exploratory calls—it's the first "big domino" to fall. Keep this front and center! Number of presentations given—a great BoFu metric. Let's you know if things are moving through the funnel as you expect.
Milestones and Quick Wins: your team should aim for a 30-90 timeframe, NOT 1 year, for example.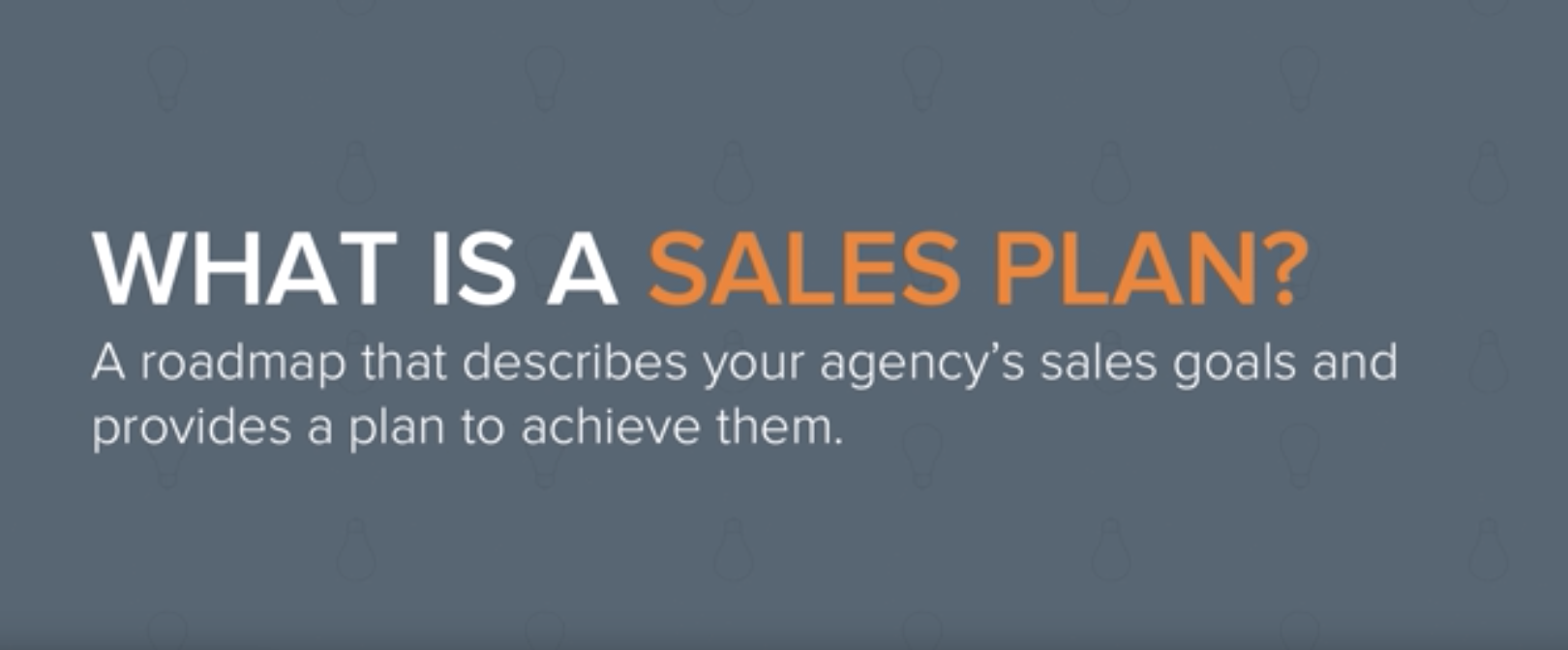 Course Details:
4 lessons
12 videos
1 exam
1:00 hour(s) completion time
Course Description: With the Frictionless Sales course you will learn how to use the frictionless selling framework to enable your team to get organized, remove friction, and spend more time selling. Also, you will discover how to align your team with your target buyer and how to transform your team through a culture of learning.
Digitopia's Key Takeaways:
On client retention: "the attitude of people when they come out the bottom of your funnel directly impacts the number of people who are willing to enter the top of your funnel." Word of mouth should be amongst our best sources for quality lead generation, if it's not, we have "bottom of the funnel issues."
On business growth: "from a flywheel business perspective, happy customers provide the force that drives business growth. Either because they buy from you again, or because they bring new customers to you by promoting their product to other people in their network. But if you produce unhappy customers, either by selling to people who are a bad fit for your offering or, by over promising and under delivering, they will add friction to your flywheel and slow your company's growth. So if you want to increase your company's growth, increase the force in your flywheel and reduce the friction. "
Force definition: anything that drives sales: an epic sales team, a great product, happy customers.
Friction definition: anything with the power to slow down sales: a clunky process, a sub-par product, and poor customer experience that get shared and scare other customers away.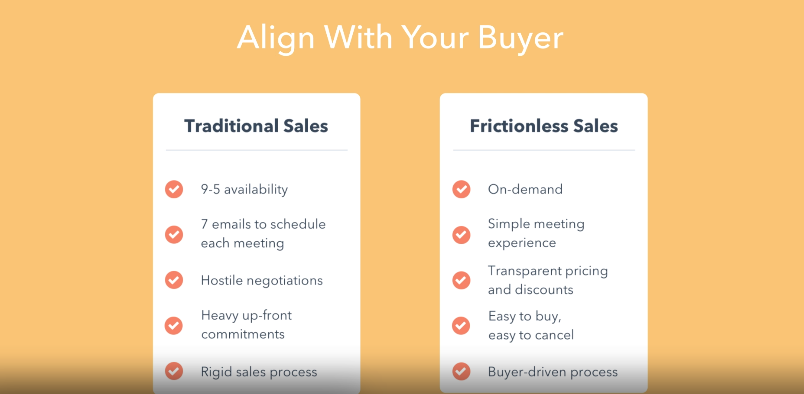 Course Details:
4 lessons
12 videos
0 quizzes
1:01 hour(s) completion time
5. Delivering Sales Services - Paid Course
Course Description: The Delivering Sales Services course will teach you how to offer sales services as a way to deliver strong ROI to your clients and increase your retainers. In addition to the on-demand videos, you'll see examples of HubSpot Agency Partners doing this successfully. Each class is full of actionable tips and processes you can make your own.
Digitopia's key Takeaway(s):
Alignment: only 22% of companies say that their sales and marketing teams are tightly aligned. However, when a sales and marketing team are aligned the teams see 24% faster revenue growth and 27% faster profit growth.
Common disconnects: disagreement about the ideal buyer is one of the most common disconnects between sales and marketing teams.
Sales enablement: sales enablement is the technology, processes, and content that empower sales teams to sell more efficiently and at a higher velocity.
Top challenges: challenge #1... engagement. Modern buyers aren't interested in speaking with a sales rep, even if they're interested in buying a product. Challenge #2: Finding the right content to send to a prospect. The average employee overlooks 270 pieces of collateral that are available to them. Challenge #3: Buyers want everything done yesterday. The first company to respond to a request from a prospect wins the business in 35-50% of all deals.
Average response time: the average first response time of B2B companies to their leads was 42 hours – and 23% of the companies never responded at all.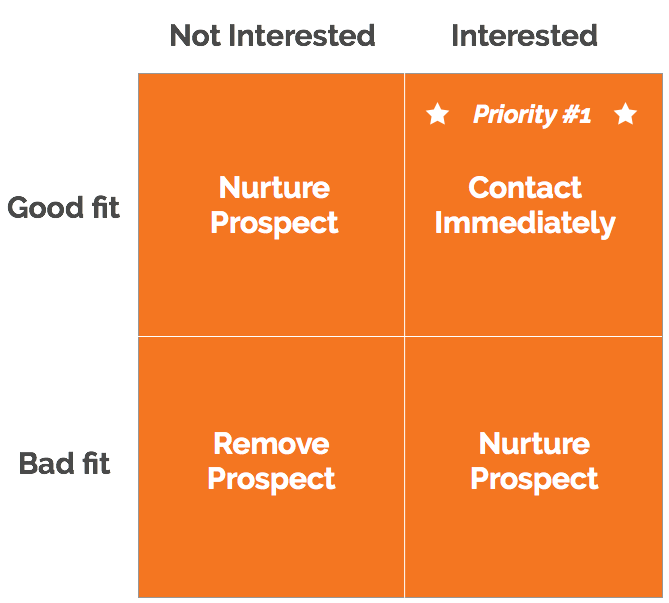 Course Details:
3 lessons
9 videos
0 quizzes
1:00 hour(s) completion time
HubSpot Marketing Certification Courses
Course Description: This course focuses on the execution of a proper inbound marketing plan through the creation of buyer personas, content creation tailored to those buyer personas, delivery and distribution of content, nurturing and ascension of leads, and marketing for each level of the buyer's journey.
Digitopia's Key Takeaway(s):
Blog titles: a blog title needs to tell a user what the post is about and what they will get out of it - titles perform the best around 60 characters and with brackets included.
Content & buyer's journey's: leads can visit your site for the first time at any point of the buyer's journey: We should always be indoctrinating the visitor with the brand for content at all levels of the buyer's journey; awareness, consideration, and decision stages. Even if they are ready to purchase our services, we should be serving them valuable, educational content at each stage.
Ungating thought leadership using 10x Pillar Pages: ungating thought leadership content in the awareness stage helps solve for both the search engine and the website visitor. It solves for the search engines because they're able to recognize the clustering of like-themed content on a specific subject, and it solves for the website visitors because it gives them the opportunity to view your content before deciding to commit to downloading it." Compare it to shopping in a bookstore: it's like skimming books, and deciding you like what you've seen so far and decide to buy and take it home to read.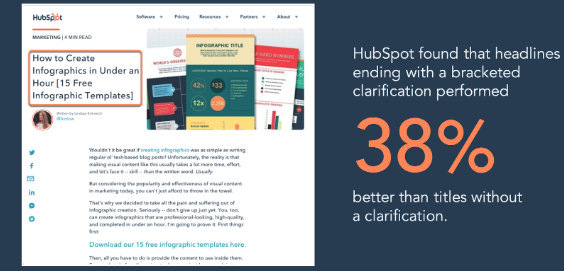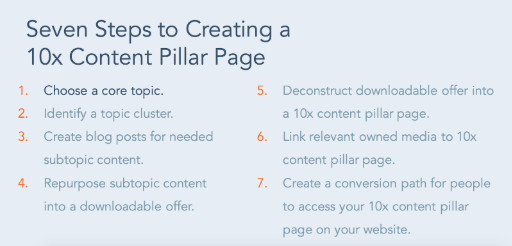 Course Details:
6 lessons
15 videos
4 quizzes
1:54 hour(s) completion time
Course Description: To do inbound marketing well, you need to start your journey with the marketing software the right way. It's a big platform with a lot of tools, and to get the most value out of them, you need a foundation of knowledge and an understanding of how they all work together. These lessons will equip you with the fundamental understanding you need to do marketing well using HubSpot.
Digitopia's Key Takeaway(s):
Buyer personas are crucial: "knowing your audience is perhaps the most important aspect of marketing. No matter how clever your copy or compelling your story or powerful your message, if it doesn't resonate with your organization's specific audience, it will likely not be successful."
Topic cluster model: "a single 'pillar' page acts as the main hub of content for an overarching topic and multiple content pages that are related to that same topic link back to the pillar page and to each other. This linking action signals to search engines that the pillar page is an authority on the topic, and over time, the page may rank higher and higher for the topic it covers."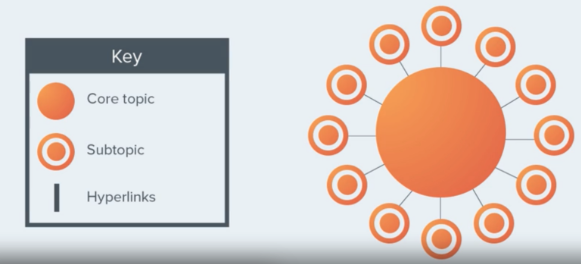 Course Details:
16 lessons
89 videos
13 quizzes
4:09 hour(s) completion time
Course Description: The social media course teaches you how to create an effective social media marketing strategy that will be relevant to your target audience. The course covers everything from strategy, to listening and monitoring, extending your reach, developing one-on-one relationships through engagement, social advertising, and finally how to show ROI.
Digitopia's Key Takeaway(s):
Pull & push: don't just use social media as a push channel, respond back to your customers (and oftentimes B2B companies are the most guilty of this.) Not responding when someone engages with a piece of content is like answering the phone when someone calls and not saying anything.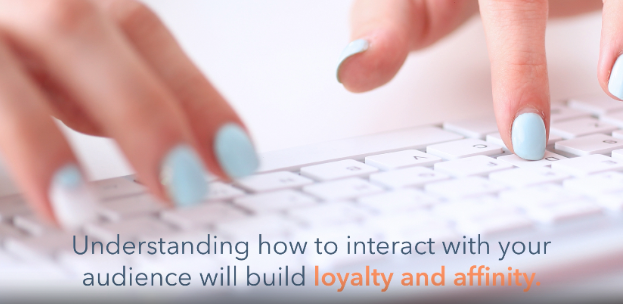 Course Details:
9 lessons
40 videos
44 quizzes
4:39 hour(s) completion time
Course Description: The email marketing course teaches you how to create an email marketing strategy that grows your business. The course covers everything from contact management, segmentation, and analysis of your sends - allowing you to craft an email strategy that is scalable, human, and builds trust with your contacts.
Digitopia's Key Takeaway(s):
Lead nurturing: is an integral part of any email marketing strategy. It is the process of building relationships with your prospects with the goal of earning their business when they're ready.
Automation & value: while marketing automation is an opportunity to help you scale your lead nurturing, it is important to remember to send emails that add value, not ask for it.
Developing relationships/building trust with lead nurturing looks like this:
Who is your buyer persona?
Mapping out their journey
What are their questions at each step of that journey?
Providing answers to those questions.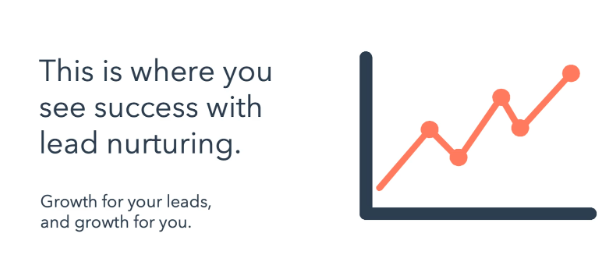 IMPORTANT: Do not just provide them the answer that is YOUR solution (product) because they can smell that from a mile away.
Course Details:
9 lessons
27 videos
9 quizzes
3:17 hour(s) completion time
5. Course: Delivering Client Success - Paid Course
Course Description: The Delivering Client Success course helps you improve your client delivery process by diving into crucial areas of client success, including client content audits, goal setting, strategy planning, and delivering and demonstrating value to your client.
Digitopia's Key Takeaway(s):
Overview: This course provides insightful tactics and recommendations for forging strong client relationships and maintaining "happy" clients.
Two key components: for delivering client success are setting client expectations and delivering and demonstrating value to the client, both from the very start of the relationship.
Setting goals: is an effective way to manage client expectations as shared goals ensure everyone is on the same page.
Delivering and demonstrating value: to the client is the foundation to the trust required to maintain strong client relationships and also encourages you to maintain communication channels.
When delivering client success: there is no such thing as over-communication!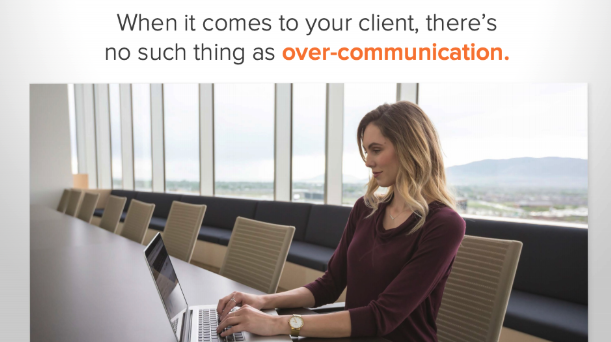 Course Details:
4 lessons
12 videos
0 quizzes
1:00 hour(s) completion time
6. Growth-Driven Design Agency - Paid Course
Course Description: In the Growth-Driven Design certification course, you'll learn how to build and optimize a peak-performing website that delivers user value and drives business growth.
Digitopia's key Takeaway(s):
Your website: is your #1 marketing asset and #1 salesperson.
Strategy: develop an empathetic understanding of your audience's world and how the website can solve problems along the journey.
Launchpad: quickly build a website that looks and performs better than what you have today, but is not a final product. Rather, your launch pad is the foundation on which to build and optimize from.
Continuous improvement: with a launch pad site live and collecting user data, you can start identifying the high-impact actions you can take to grow your business.
Rewriting the story: traditional mindset, the website is...a pretty brochure with fuzzy goals or vanity metrics. A necessary cost. Only for the marketing team. Perfect for the launch.
The new mindset: the website is, an asset or product of the business tied to concrete business goals. An investment in growth. A tool for every department's growth. Continuously evolving and improving.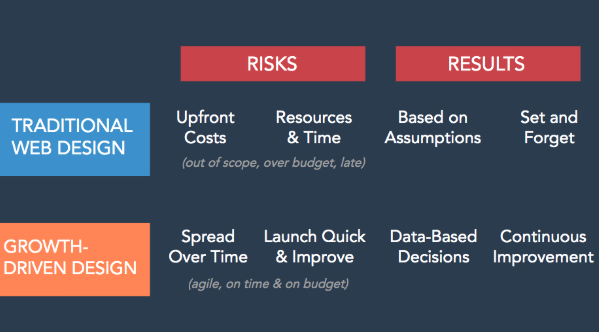 Course Details:
5 lessons
19 videos
14 quizzes
6:00 hour(s) completion time
Course Description: This track contains lessons and resources to help web developers learn how to build and manage websites on the HubSpot CMS. You'll learn how to use the CMS tools to create a wide variety of assets, and how to maximize your effectiveness with these tools to streamline your processes and increase your productivity
Digitopia's Key Takeaways:
The HubSpot CMS: is a Saas CMS that contains all the tools needed to build and maintain web assets. It is designed to strike a balance between being easy-to-use for marketers and having control for developers. As the template builder, you have a significant degree of control over how other users interact with pages. The modules you decide to use and the labels you apply to these modules can help make the editing experience more intuitive. That said, it's important to approach projects with careful planning and a collaborative lense so that everyone is on the same page
The settings section of the CMS: is frequently overlooked when folks are first getting familiar with the toolset, however, this is an extremely powerful part of the CMS that connects a lot of moving pieces. A web developer should make it a priority to familiarize yourself with all of the available settings. Many aspects of templates and pages will pull data from settings, so you'll want to make sure you're aware of these connections.
HubL: Hubspot's templating (or markup) language. Drag and drop modules - don't need HubL because this builder writes it for you. Custom modules - HubL is an important part of building custom modules. Coded templates - Use hubL extensively (especially blog templates)
Course Details:
8 lessons
30 videos
6 quizzes
3:00 hour(s) completion time
Conclusion of Certification Day
In total, our team gained more than 20 individual certifications, and the Digitopia agency profile earned seven new badges. The true result of our certification day efforts was a galvanized team proud of our dedication to continual growth, and we encourage you to do the same. Leave a comment below if you have any questions regarding the mentioned certifications or if you would like to know which certifications we require all team members to achieve.