3 Ways We've Utilized HubSpot Chatbots for Sales
by Don Crow | Updated Nov 4, 2021
When you think of chatbots, sometimes you don't immediately associate them with sales. Why? If chatbots aren't structured strategically and placed appropriately on your website and social media platforms, they can feel too rigid and less human. Neither of those makes for a compelling sales process for your prospects, and together they can just outright turn off a potential customer.
Most companies who use chatbots do so for customer service and as a way to prompt further action on a website.
For example...
Go look at a B2B SaaS website and give it a few seconds and watch the "bot" appear bottom right. They'll typically ask things like...
"Are you looking for more info?"
"How can I help you find what you're looking for?"
...and so on.
The point here is to keep you on the page, and guide you through the first step of your awareness journey with them.
But, what if I told you...
...there's a way to strategically set up your chatbot that does drive inbound sales?
It takes more than just adding a bot to your website and calling it a day. Your number one goal of using a chatbot in your inbound sales is to provide solutions - not sell.
Let's walk through some ways we've leveraged chatbots with some of our clients and how we've seen success so you can incorporate chatbots into your overall team sales strategy and boost your inbound sales.
Potential Use Cases for Chatbots in Inbound Sales
The Nurture Approach
If you've led a prospect to your site through a nurturing campaign and they land on a predefined page within your site, your chatbot can ask very specific questions to deepen the relationship.
For example, let's say you want to target your list of Buyer Persona CEO Carl (CEO of a small business).
You use ads to drive this persona to one of your service offering landing pages with a form for the individual to request a quote.
But, maybe they aren't ready to request a quote?
This might be the first time they've heard of your company, and instead, need to build trust in your services and expertise. In comes the chatbot.
At Digitopia, we leveraged this approach for a cleaning services company and used one of their most downloaded deep dive offers we built from their brand content blueprint.
What the heck is a content blueprint?
It's a strategic framework for building smarter content to support your inbound marketing. Start building your strategic, SEO-driven content plan today.
Download our Digital Utopia Methodology Blueprint »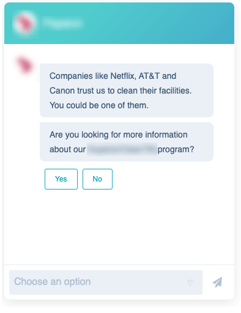 On the service page, we inserted a chatbot - with the sole intention of getting the prospect an instant quote.
No obligation. No pushy salesperson. Just instant gratification.
This gave the visitor another opportunity to convert instead of abandoning the page if they weren't ready to talk.
From there, the subscriber is presented with a detailed offer via chatbot in exchange for additional contact information. While this may technically fall on the "marketing" side of the lifecycle journey map, this is also useful for sales reps to use in nurturing queues to:
re-engage with lapsed prospects
re-engage with former Marketing Qualified Leads (MQLs) who meet your nurture queue criteria
Remember, the goal of your chatbot in this inbound sales process is to provide value - so in this case, you're matching a detailed offer with intent, in exchange for more information from the prospect.
The Meeting Bot
Perhaps the most popular use of chatbots in sales is to allow the prospect to book a meeting directly with a sales representative. This one is so popular it is often overused as a first "meet and greet" when a visitor lands on your site — which is too early!
One way we use a meeting bot at Digitopia is through a "foot-in-the-door offer" (learn about different offer levels HERE).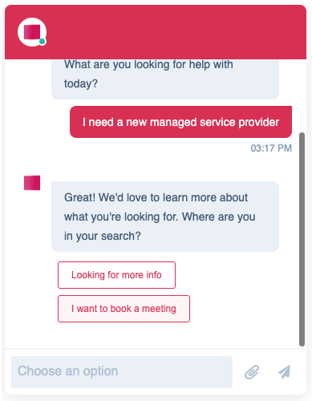 One of our IT clients wanted to offer visitors a free 30-minute consultation with its CTO to answer any IT/tech questions they might have at their own company. No sales pitch, just a free-flowing conversation to share some expertise and consultative advice. A meeting bot has the calendar invite living natively within the bot so the visitor doesn't get redirected to a landing page to book time.
Linking to a calendar and giving the prospect options helps them feel more empowered in the process and increases the likelihood of them actually showing up for the meeting.
Since implementing this meeting bot, we've seen a 40% increase in meetings (yes, qualified meetings) booked.
The Employee That Never Sleeps
Finally, another use case we've used for chatbots in the inbound sales process is to serve as your 24/7/365 "answer" agent.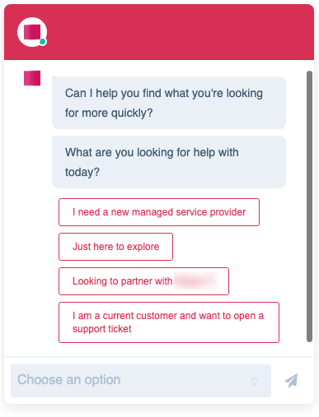 It's after 10 pm on a Sunday evening and a prospect knows they have to have detailed pricing options on several B2B SaaS platforms on their boss' desk Monday morning. Your chatbot greets them on your solutions page and through a quick series of predefined questions:
Gives the prospect what they needed
Captured some lead information as part of the process.
You helped the prospect and generated a lead for your own company well outside of normal work hours.
Making the Best Use of HubSpot's Secret Sales Tool
Believe it or not, chatbots do have a place in a well-structured and strategic inbound sales process. Developing specific use cases and architecting they ask, you answer sequences is an almost painless process in HubSpot's Chatflows tool.
Once you think through the most appropriate placements of those inbound sales chatbots, your sales reps will actually come to enjoy the additional insights gleaned from the interactions and can use that to their advantage once the MQL gets handed off as a Sales Qualified Lead (SQL).
Remember, the bottom line for any chatbot interaction should be to add value to the visitor's interactions with your website.